Cassettes, in spite of the relentless pounding by the digital formats and industry press, continue to bring entertainment and information to millions, even now. At JRF Magnetic Sciences, we are very proud of our lifelong relationship with the tape duplication industry. Some of JRF's first customers were tape duplicators and remain so today. Over the years, these relationships with OEM's, duplicators (large and small), and technical service companies have provided a mutually beneficial exchange of ideas and a testing ground for product development. Today, magnetic heads and tape transporting components used in high speed and in-cassette duplicating, mastering and quality control are the result of this ongoing quest for improvement.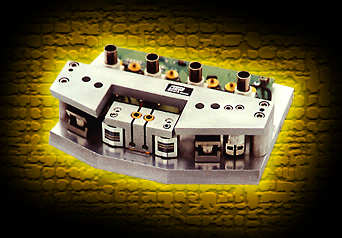 Unlike so many segments of the recording industry, duplicating equipment is seldom ever considered obsolete and discarded. Many of JRF's customers are using systems that were originally manufactured in the early 70's and even late 60's. Many of the early Gauss 1200's, Electro-Sound 4000 & 6000's, Liberty, and even Lang systems were designed for 8-track but have been converted to cassette and upgraded to higher duplication ratios and better electronics. JRF is pleased to have played a part in many of these conversions.
MAGNETIC HEADS FOR HIGH-SPEED DUPLICATING

Since 1980, JRF has worked closely with Saki Magnetics for a very good reason. Quite simply, Saki builds the best ferrite heads available, at any price. And, they fully stand behind their products. JRF offers Saki products exclusively for all high speed duplication head requirements. Replacement heads, from stock, are available for Ampex, Audio-Tek, Gauss, ElectroSound, Liberty, Magnefax, MTI, Otari, Lyrec, Tapematic, and Versadyne.



MAGNETIC HEADS FOR IN-CASSETTE DUPLICATORS

Through JRF, replacement heads for in-cassette duplicators are available from the top head manufacturers like DRS and Saki Magnetics. Due to the high performance and long life characteristic, magnetic heads manufactured of ferrite materials continue to grow in popularity. Replacement heads, manufactured by Saki Magnetics, are now available for KABA, Otari, Telex and
Sony in-cassette duplicating equipment.


RECONDITIONING
Our lab facility is staffed and fully equipped to provide the finest duplicator head and assembly alignment services available. For additional information on this, please refer to our page on relapping.

SPECIAL PRODUCTS

JRF is a leader in the area of product development to improve the process of transporting tape at high speed. Products include:
T-Bar head mounts for many of the high speed systems used today

Precision tape guides for cassette and 1/2-inch tape

Pinch Rollers for ElectroSound and Gauss

Replacement guide bearings and spools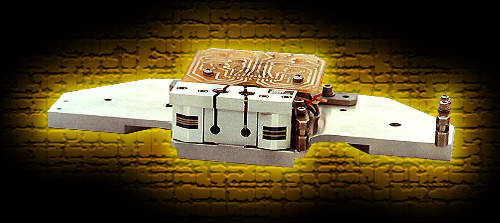 Relapping and optical alignment of all manufacturers head assemblies.

Replacement heads including low speed extended response heads.

Pinch rollers

Reel Hold-downs: precision twist lock design for 1/4 and 1/2-inch

Replacement transport parts for Studer A80MR, Otari MTR12, MCI JH110, and Ampex ATR104

Ultrasonic cleaning and setup of flutter idlers
• Click here to see pricing for JRF's products and services for duplicators.